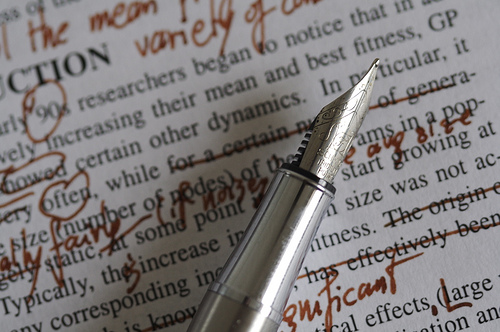 Hi readers,
I feel a bit bad that this post is going to be cutting into the flow of my Series of Unfortunate Events review. Also it might become a small rant, but I'll try and remain calm. I'm also not in the mood to break down books and digress about things right now. So, I wanted to look at editing and how writers and editors face this section of the writing process. I've been forced into thinking about this due to an editor heavily editing my latest non-fiction story on a website.
Guess I should explain what's happened before I launch into things. So, a few weeks ago, I got messaged on this site by an editor who wanted to put my story on the editor's picks page. I was mega happy about this as any budding writer would be. She told me that some edited was needed and I agreed because I was very aware that some changes and corrections were needed. This afternoon, I finally saw my re-drafted story. I'm not sure how long it's been up for, because the title, summary and image had been changed. Not really what I wanted, but if it draws more people in okay. I then started to read my story and for the first few lines I believed it was actually someone else's and I'd made a mistake. However, certain lines and paragraphs looked familiar and there was a lingering of my work and voice within this story. When I got to the end it suddenly dawned on me; this was my story and an editor had mega edited it and then re-written it!
I was moved to tears and anger. How could someone do this? This story had my name and ideas attached to it, but it was no longer mine. There wasn't much of me left within it and yes, the meaning of the piece was still there, but it felt like someone else's. Having another read, I saw lines and words, I won't have used. I saw ideas that just shouldn't be there and actually the deeper meaning of my story had been removed. The ending was the worse. In my original, I describe my sense of uncertainties like fishing for an oyster with a pearl inside of it and that being the key to me making the next step in life. In this edited version, it had me taking the bull by the horns and feeling like I could take the world on and do everything because I didn't want to be waiting around any more. But that, even though it's similar, isn't the way I wanted it to be.
Seeing from the point of view as a writer and then from an editor is something my degrees have taught me. I learnt too that it's your story and though someone might suggest some changes, you don't have to use them. It's important to stand by your own work and have believe in it. Editors can't always be trusted. Yes, they want your work to look the best and sell good and they suggest changes to make that happen. but if you feel that something is going to be lost and you can't seem to re-write it well enough, then you either let it go or you fight. Some times, the fighting does actually work!
Let's get to the heart of this situation, because the whole editing thing is just the surface. The heart is that I wasn't consulted about the editing done to my story. I wasn't asked to do it myself or make suggestions for the changes. The editor just did it and re-posted it. I think that's the thing that makes me really angry. It didn't belong to me anymore and my voice had been faded out. I couldn't be proud of the story any more because it wasn't mine. If there'd been small changes and the story had remind more intact or else I'd been asked to do the edit work myself, it would have been different. From my point of view though, someone had taken my idea and just wrote their own opinion about it.
Many new writers will be happy to have their work shown on other peoples' pages and won't really think about the attachments of the line 'after we do some editing.' They'll think along the lines that I did and then when they see that their story has been altered so they don't know it, they might feel that they can't do anything about it or that the editor just decided it had to be that way. Actually that'as not true. IT's still your story at then end of the day (unless you've agreed via contract etc) and you have a right to stand up for your writing. Don't be afraid to challenge an editor or anyone else for that matter. If you believe so strongly about something, it's important to carry it though. So, I've deleted that version of my story, re-published the original and messaged the 'editor' with a professorial sounding note about my unhappiness with the editing and why I felt as I do.
So, after all that what is my opinion of editing and editors? Well, both are needed. It's very important for all writers to edit their work. I'm not just talking about spelling, grammar and formatting here, I'm taking about physically editing through every page, paragraph, sentence and word. Ask yourself the questions of; is it really needed? Is there a better word that should be used instead? How does it effect the flow of things? Would this line/word be better some where else? Does this really show what I want to say? Does it stay true to the character/plot? There is also the technique of cutting every word you dare and trying to improve your writing by taking out as much as possible. Always remember to keep a copy of your first draft just in-case you don't like your second draft! Also novels and stories go through a lot of drafts the minimum should be about three or four at least.
Editors from what I've heard can be tricky and sometimes they can see a completely different world to the writer. More often then that, a writer might not have a choice who they work with. Every writer dreams of finding a suitable editor and agent for them. It's not always possible of course, but you have to make the best of what you've got to get to the places you want to go. It would be nice to take a car, but if a bicycle is your only option, take it or else you'll end up walking!
I've sure learnt from my lesson now and I hope that this post makes other people aware of some more writing pit falls! I feel a lot better after writing this and deleting my story. It can be hard, but as long as the choices you make feel right to you, then go and do them. Now, I'm going to sing to some Bon Jovi and get some inspiration for my next story.
Images:
http://www.gracebooks.org/book-editing/different-types-of-editing/
http://www.adelekamp.com/wp-content/uploads/2013/10/book-editor-office.jpg