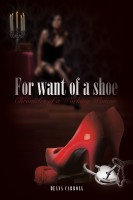 Hi readers,
It's weird to think that in my last post I said I won't really be doing book reviews any more and here I am starting September off with one! This one is a little bit different through because it's a self-published novel based on The Red Shoes by Hans Christian Andersen -though it also feels like the writer set out to re-write Fifty Shades Of Grey-. Now, I don't really read normal romance and erotic genre stories because they just don't grip me enough. I enjoy supernatural romance novels through because there's always more interesting things going on in the background or with other characters that keeps my attention. Of course, when FSOG took off I jumped on the bandwagon to see what all the fuss was about and well, I'll just keep my thoughts on that till I get around to reviewing it and the other books. With that in mind how did For Want of a Shoe add up?
The plot feels pretty basic; a pretty young woman, Abi, who has relationship and financial troubles gets a new job and falls for her boss. Her boss, Lester, though is only interested in 'a no strings attached' / 'friends with benefits' relationship within a BDSM lifestyle. She of course agrees to this in exchange for room and board in his huge fancy farmhouse. Only, she wants more and to be loved in a real relationship which isn't what he wants, so she leaves him. Only, she is still struggling financial and ends up making a deal with Lester's business accountant, who turns out to have a fetish for inflecting pain using canes. Abi can't cope with this and just in time Lester decides he can't live without her and saves her.
I get that this plot is different from FSOG, but I can't help to make connections between the two of them. I think part of my problem with this genre is that I like my stories to feel realistic - even the supernatural and fantasy ones- and the main theme (BDSM, relationships ects)- don't feel real enough to me. It also makes me question what the writer's experience/ research has been like. I know for a fact that having experience of something can dramatically improve your writing and the realism of your characters. Setting that aside, I do have to admit that the plot was okay and it did draw me in, but not as much as FSOG (I wanted to know what Grey was up to and why. But when I finally got there is it was very anticlimactic and I regretted being so eager to know). There didn't feel much of a twist in the plot and nothing unexpected happens.
What about the characters? Well, there's not much development for Abi and Lester and none for the background characters. Abi learns that she does sort of like the BDSM lifestyle and that she needed it to escape her boring reletionship with her ex. Lester learns to love again. That's basically it. I'd have liked to have seen more and the background characters are just there to push Abi and Lester along without their goals/wants really looked at. For me, the background character should be as important as the main characters and that's a sign of good writing. The characters do feel realistic, though Abi's ex really bugged me and not enough time was spent looking at his actions/wants. They didn't make me think about the characters of FSOG/Twilight though.
The 'bedroom'/adult content stuff? Without going into too much detail of course! It worked and felt real for the most part. The BDSM stuff seemed more natural, though in some parts it does feel slightly abusive, especially the moments Abi has with the accountant. (though they are kinda meant to be like that. Also, I really disliked Mr Solomon and his addiction to all things Victorian. It just didn't feel right to me). I had to remind myself a few times that was a 'fantasy' story and thus it was okay. Strangely, what stood out for me was the 'piercing down there', I'm not sure why, I guess because I just felt it was an interesting thing.
The worse parts for me were that nothing about the lifestyle is really explained to Abi and she is just sort of dragged into it. She can't really say no or suggested things, though I guess if that happened then the plot would've been different, but I'd so like to read a book where the Sub was fully on board and really into the lifestyle and the Dom felt the same way and it didn't feel abusive or victimized. (I also want to read a story about a Dominatrix and her male slave. I guess I could always write one myself!) Secondly, I cringed over the word usage of 'personal joystick', which only appeared two or three times, as I would have preferred a different terminology and it didn't feel in line with the narrative structure.
The narrative and dialogue are all right. It seems better then FSOG and there some higher vocabulary words thrown in, (which might send some people Google-ing). There is a bit too much 'telling and not showing' for my liking though as the narrative finds it easier to just tell the reader what they need to know rather then trying to show it in the actions and dialogues of the characters. For me, also there needed to be more description of settings etc in places, but there's enough overall to carry the imagination through. Plus, the over use of the exclamation mark and question mark irritated me and devalued the usage of them. The bulk of the dialogue is realistic and fine, though some parts feel a bit clunky/clumsy.
Overall, I have to admit that I liked this more then
FSOG.
The writing is a lot better and most of the bedroom stuff feels more realist. The characters, though lacking serious development, are less annoying and more easier to connect too. There's not a lot new with the plot/story nor any twists, but its good enough to get into and understand. I think if you are into this genre then this book is worth a read.
Ps. Don't forget to check out my other blog, where I publish a new short story every day! I'm also requesting submissions for October. I'm looking for short stories from 5 words to 2,000 words with a horror, supernatural, Halloween theme. Please email them to me at hrhardman66@mail.com and help spread the word by re-posting this or my requests on my other blog. Thanks.
https://thestoryfiles.wordpress.com/